Following is information for Mr. Matthew York:
Email:
Matthew.York@unt.edu
Department/Title:
Peer Assistant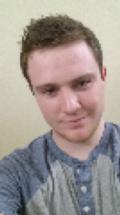 About Mr. Matthew York:
I am from Mesquite, TX, and have been enrolled at UNT since the fall of 2013. I will be starting my senior year in the fall of 2016. I have been enrolled in the Honors College since my first semester, and I recently completed the Honors Scholar Award with an Honors GPA of 4.0. Furthermore, I am a business major with a 4.0 overall GPA. I have a love of film, music, travel, and culture. I constantly like to read and learn something new. In addition to playing the clarinet, I have taught myself the saxophone and the guitar, and I am in the process of teaching myself French. I am open to new experiences and ideas, and I am willing to try new things. In my spare time, I play and listen to music, watch films (both American and international), and read. Also, I have had a love tennis since I was six, and I play intramural tennis and follow the professional tennis leagues around the world. In addition to playing tennis, I also enjoy running and swimming. Furthermore, I am also a swim instructor. For the past four years, I have been teaching kids, teenagers, and adults, how to swim.